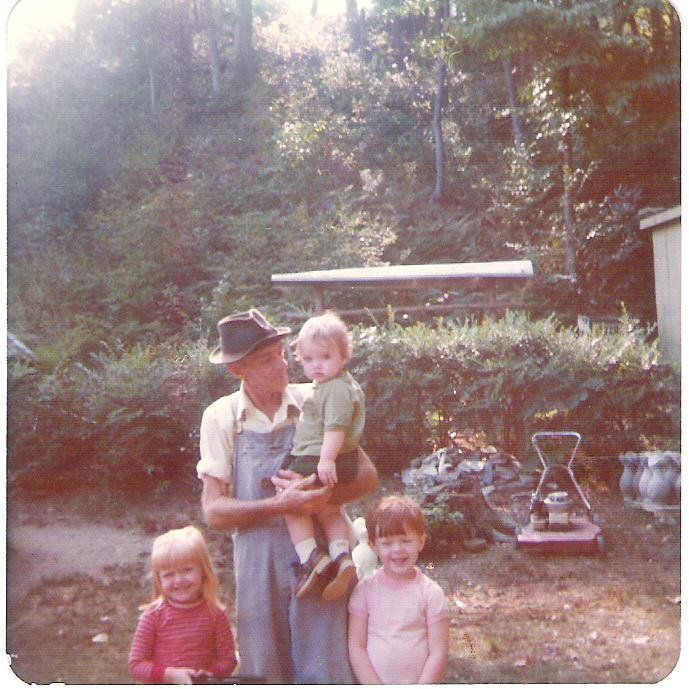 The Bee Keeper holding me. Also my brother Rog and my cousin Pam. The hill behind us would soon be the home to his bees and the miniature Jerusalem.
Tonight I have been thinking... thinking about the Bee Keeper. I called him Papaw. He was my whole world when I was young. An old Baptist preacher who worked the land to make a living. He built the home where he raised his children, including my Momma. He also built a two story apartment on his farm for his grown children to come home to when times got hard. That apartment was my home for many years. At one time my family lived in one story and my Aunt and her family in the other. Papaw wanted to keep family close. He knew second to God, family was most important. I hunted, trapped and fished with Papaw. Our blackberry pickings were always memorable too. Our ginseng hunts were legendary; at least in my mind. Papaw let us grandkids grow up country style...barefoot on the first warm day of Spring and playing in the creek catching crawdads but we learned about hard work too. We all had chores. We worked in the fields, carried water and helped Mamaw around the house. I was even known to paint the bricks of his house with a can full of creek water and a feather from one of his laying hens. I loved how those half brick walls would shine, at least while they were wet. My nickname was Lucy Slewfoot...I don't why ... but I loved it. Papaw had a strict dress code for himself; Monday thru Saturday: overalls, white tank tshirt and white button up, Sunday: White button up and suit and tie. He smoked; during the week it was hand rolled cigarettes with Prince Albert canned tobacco, or a pipe of cherry tobacco ( I still think of him every time I smell it), Sundays he smoked Marlboros. He didn't want all those ashes from home rolled cigarettes to get on his Sunday clothes. We buried tons of treasure in those old Prince Albert cans. Papaw loved making concrete statuary. He even built the city of Jerusalem in miniature in the side yard. That was one of my favorite places to play as a child. In my eyes, Papaw could do anything. There were many things he loved to do. Preaching was his favorite thing I believe. Mine was sitting on the couch with him as he read Scripture to me. I can close my eyes and still see his finger sliding across the worn pages of his Bible as he showed me the words he was reading. He even let me "marry" him and Mamaw one day. I felt so much like him as I read the words from his old Pastor's manual. I still remember the sweet kiss they shared when I "pronounced" them man and wife. Many times I would be playing in the yard and couples would show up and ask him to marry them. His yard probably saw more weddings than the church building. I made him promise that he would marry me and my future husband someday. He couldn't keep that promise but that's ok...he would have if it was up to him. He did marry my brother and his wife. I know Rog treasures that memory. We lost Papaw not long after the wedding. Papaw had a hobby that was very special to him. He was a beekeeper. Bee hives lined the hill above his house and the yard was always full of the sound of busy bees. He lovingly donned his gear and would bring out sweet warm honey fresh from the hive for us to eat. Yummmm, there is nothing like it in the world. Papaw loved his bees. He found his quiet time working with them. I was always allergic. A bee sting meant a trip to the ER. Sometimes the swelling would be very bad and I would be ill for days. Papaw always worried about me during those times but I know he also mourned his bee. Sometimes the bees and I could come to an agreement and I would go through Spring and Summer without a sting. I'm not sure who was happier, Papaw or me. There are many stories I could share about Papaw. But tonight, I was thinking about the Bee Keeper. I would have bees if I could. I long for that sweet warm honey.I listen each Spring as the few honeybees around my house visit my gardens, I long for the sound of their wings. What memories they bring... I long most of all for the Bee Keeper...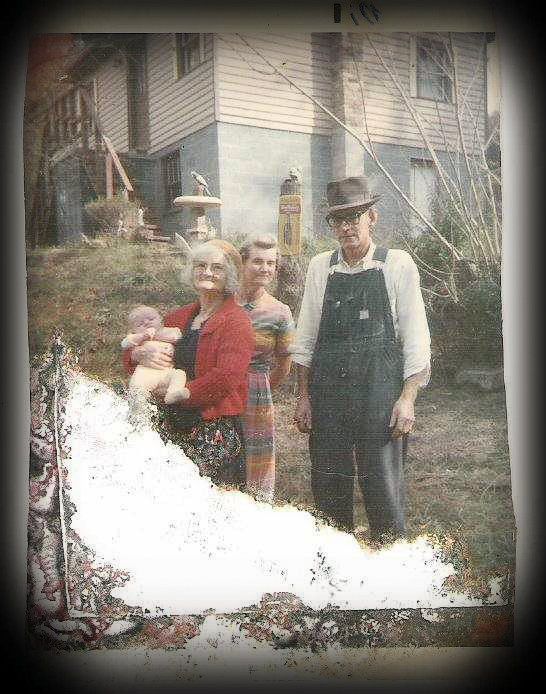 My Papaw, My Mamaw, My Granny (his Momma) and my brother Rog. Behind them is the apartment from my post. Also you can see in the background the limbs of Papaw's snowball bush , where he sneezed his teeth out one afternoon...but that's another post.