It is cold.Let me rephrase that...it is VERY cold today. Everything is covered in snow and ice here. And although I have a ton of housework to be done, I have spent the morning vegging. I plan on having a nice warm cup of pumpkin pie spice cappuccino and then getting busy. I promise :) The kids have school work to do too. I let everyone sleep in this morning because we were unable to make our dentist appointment. Since we homeschool though we can start late if we want to.
I had this poem come to mind this morning and thought I would share it with you. I have loved poetry for as long as I remember. My Mamaw had a book of poetry that I loved to read through when I was at her house. Thats where I fell in love with poets like Robert Frost (who happens to be my favorite). So today you get to enjoy one of my favorite Frost poems. I even included a picture I took a few years ago at Newfound Gap. I thought it kinda fit the poem.Have a blessed day everyone! ~ Nikki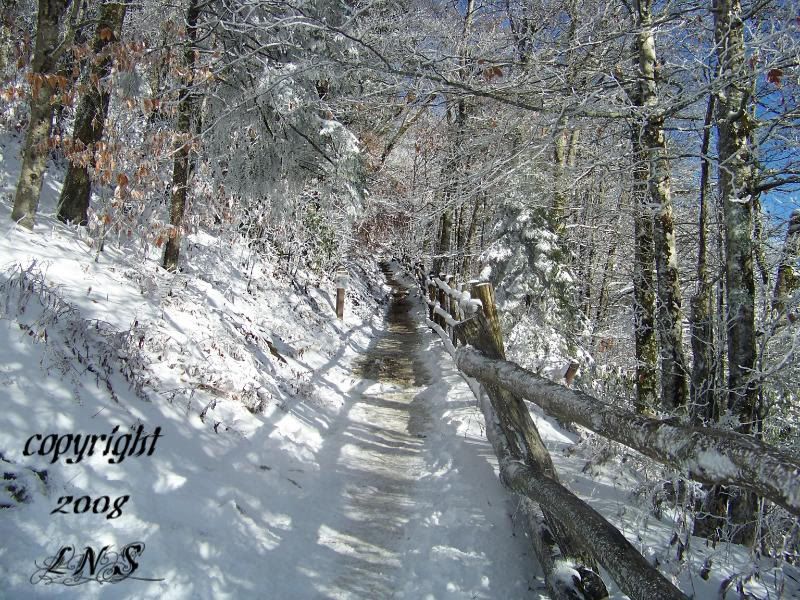 Stopping By Woods on a Snowy Evening
Whose woods these are I think I know.
His house is in the village though;
He will not see me stopping here
To watch his woods fill up with snow.

My little horse must think it queer
To stop without a farmhouse near
Between the woods and frozen lake
The darkest evening of the year.

He gives his harness bells a shake
To ask if there is some mistake.
The only other sound's the sweep
Of easy wind and downy flake.

The woods are lovely, dark and deep.
But I have promises to keep,
And miles to go before I sleep,
And miles to go before I sleep.