For today's craft post I thought I would show you a grapevine wreath that I made for Nomi.Pardon the fuzzy pictures. I took them with my phone because my camera batteries are dead.
1. Take some grapevine (green or dry; I like to use green because it is more pliable and able to easily weave yet it will dry fairly quickly.) I have plenty of wild grapes growing around my house so I have plenty of materials. Weave together as many vines as you desire to create a wreath the size and thickness you like. I don't weave very intricate ones like you would buy in the stores. I like to weave mine into simple prim looking wreathes. I like all the "curly q's" on this one.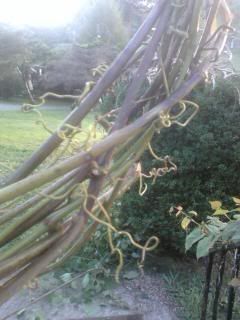 2. Once you have the shape you desire, start adding decorating elements. I found these wonderful leaves at the Dollar Tree. I think there were 12 in the pack and they are completely wired so you can adjust even the leaf tip to the shape you want.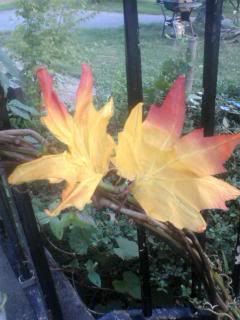 I also found this beautiful pumpkin ribbon at the Dollar Tree.
3. Finally the finished product modeled by Roosie.
I'm looking forward to reading everyone's crafting posts. Blessings! ~ Nikki
comments
. I like the simple, prim look. That will make a lovely fall decoration.
Thanks for joining the crafts carnival!
Blessings,
Catherine
Abby
Love it !!!!!